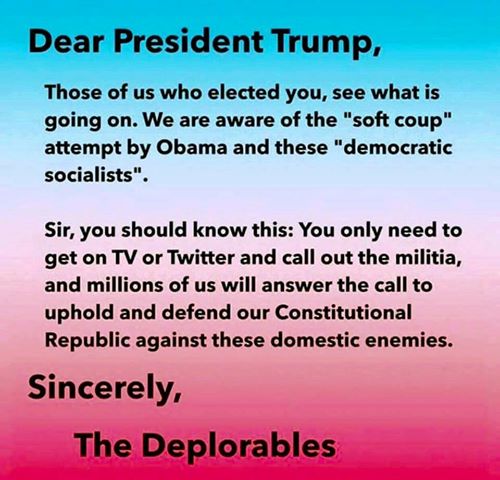 Dear President Trump,
Those of us who elected you, see what is going on. We are aware of the "soft coup" attempted by Obama and these "democratic socialists".
Sir, you should know this: You only need to get on TV or Twitter and call out the militia, and millions of us will answer the call to uphold and defend our Constitutional Republic against these domestic enemies.
Sincerely,
The Deplorables
I didn't write this meme, but find it important. We MUST have President Trump's back. We must realize that he is being challenged at every level and from both domestic and global enemies of our country.
Winning the election was only the kickoff, we have to play the whole game, each and every down, like our lives depend on it, because our lives DO depend on saving this country and returning it to the rule of law.