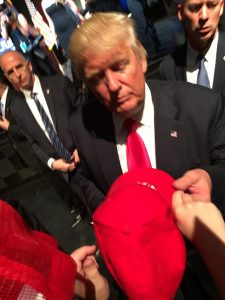 Donald Trump loves this country and is running for President to save it… he did not have to do this, he's built an empire that can and will keep him and his family safe, comfortable, and secure no matter what happens in this country and the world.
Supreme Court Justices & Judges: Trump will nominate Justices and Judges who follow the constitution vs. following a political ideology and legislating from the bench.  This is one of the the longest lasting things a President does.  Most people fail to grasp the importance of Justices and Judges, the effect of these choices can last for generations and change the direction of the nation.
Lower Taxes for Businesses – will spur business growth and new businesses.  The USA has one of, if not the highest corporate tax rates in the world, killing business both large and small.
Reduced burdensome regulations for businesses – will spur business growth and new businesses.
Stop corporate inversion – businesses moving to other countries like Ireland because taxes are so high, and regulations so convoluted they can't bring monies they've earned abroad back into the USA. This is trillions of dollars that could be put to use in this country by businesses: Trump will change tax policy and regulations to make bringing this money back to the US doable and affordable.
Simplify and reduce taxes for everyone, but mostly lower and middle-class.
Trump will make smart trade policies: he supports fair trade, but not with countries not being fair to us (currency manipulation, etc.)
Overturn the "Johnson" amendment which threatens churches with loosing their tax exempt status if ministers preach about politics from the pulpit. This amendment was created by President Lyndon B. Johnson to keep black churches in line: The Johnson Amendment refers to a change in the U.S. tax code made in 1954 which prohibited certain tax-exempt organizations from endorsing and opposing political candidates.
Supports the 2nd amendment.
Supports getting tough on crime and getting illegal guns out of hands of criminals and gangs. Supports law and order.
Will rebuild our failing infrastructures, inner cities, etc.
Supports deporting criminals in this country illegally.
Supports building a wall on our southern boarder to stop the flow of illegal immigrants and drugs across the boarder.
Trump will temporarily halt immigration from nations with terrorist ties and history of supporting terrorism, and where proper vetting cannot be done.
Will un-handcuff the FBI to allow them to do their job.
Will un-handcuff the boarder patrol agents to allow them to do their job.
Will un-handcuff authorities allowing proper profiling to better detect potential terrorists.
Will de-weaponize and drastically reduce government organizations such as the IRS, EPA, and department of education.
Will defeat ISIS and ferret out the infiltration of the Muslim Brotherhood from our government
Will reduce government waste and reduce size of government.
Will return control of education to the states vs. federal control.
Supports parental choice for education vs. federal control.
Pro-life.
Supports making the USA energy independent and developing all of our energy resources.
Will fix the Veterans Administration and take care of our veterans.
Will stop "Nation Building".
Will stop spending vast sums of money defending nations perfectly capable of paying for their defense.
Trump will start healing the racial and economical divide created in this country over the last 8 years.
Trump is not afraid to fight for this country and it's people.
Trump is an outsider – one of our biggest problems is "the establishment", Trump is the establishment buster.