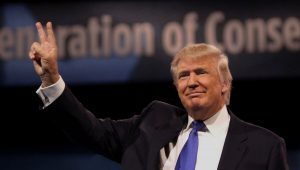 Mr. Trump;
Since the first GOP debate, I no longer watch Fox News. I've started watching OANN instead. I watched the debate last night (3/3/16), and as expected, the moderators were intent on attacking you and baiting the other candidates to attack you and discredit you. They were successful. The debate last night was like a feeding frenzy of sharks with chum in the water: you took some damage but they didn't eat you alive. You get credit for not punching them all in the face and walking away. The slides and the heavily edited video clips were despicable. The only other candidate to get a slide or video was Kasich and his was aimed at you, not him.
It's becoming blatantly obvious to most people that someone, or some group, would rather sacrifice the country than have you as President. It should be obvious that the major networks are controlled and have their marching orders (yes, even Fox).
If all the debates had not been an effort to attack and discredit you, and if the GOP was actually behind you, you would have won all the primaries to this point by a landslide. You would look more like Reagan and not a street fighter. But instead they're out to destroy you.  To anyone paying attention, the GOP looks like the cesspool of snakes that they are.
Debates, when moderated by those with an agenda, especially when the moderators fray in to the debate themselves, are worthless. That the GOP allows this to happen, and uses it as a tool to shape the process, is criminal. It reeked of pre-planned coordinated attacks between the moderators, GOP, Romney, and some of the other candidates.
Some of us realize that there was a reason George H. Bush was at the last debate: it wasn't for his health; it was to send a message to you. Your courage in pointing out some of the facts about 9/11, the middle-east, and the Bush family are not lost on those of us who dig deep into things, however, to most Americans you're telling them things they've never heard.
You're challenging dangerous and powerful people who will stop at nothing to maintain their grip on power and wealth.
This election cycle has exposed the "man behind the curtain". Mitt Romney trying to take you down has exposed the fact that he must have thrown the 2012 election when told to do so. Perhaps he was an inside plant the whole time. There's no logical reason for him to have backed off in 2012, and there's no logical reason for him to come out now trying to harm you: other than the fact that he's an establishment guy. The establishment, both Democrat and Republican, is owned and operated by the "men behind the curtain" and they do not want you to be President. They wanted Obama and they want either Clinton, or someone in the GOP that they can control. They want open boarders and worldwide monetary control. They want control, complete control: you threaten that. They even rolled out the Pope to take a shot at you.
Your arguments of "flexibility is required" to get things accomplished and "getting the best minds in the room" make sense to most people. Most people understand that this is what a President should do: that a president does not have to know every detail of every item.
Most people think the system is completely broken and stacked against us, the American people. Your job right now is to convince people who are uncomfortable with your brashness and name calling that you're the man to fix it. You have to get enough people to vote for you that it's an overwhelming victory, both in the primary and in the general election (if you're the nominee). If it's close in the primary they'll broker and put in someone they can control. In the general election, if it's close, the corrupt system will tweak and manipulate votes until you lose.
It's time to flip the switch. You must no longer stoop to their level. You must no longer call them names, no matter how deserving they are of being called names. Don't engage. Off color is off limits. We know you're winning and WE are why you are winning: stop citing polls, minimize how much you talk about winning, stick to facts, policy, and get your humor to shine through. Be tough, energetic, and personable. You have great material in your book "Crippled America", and in the policies on your website: talk about those and the issues… constantly. Focus on your solutions to our problems and less on what losers politicians are: we know most of them are!
Your brain works differently than Cruz or Rubio. You're used to a different environment than you're in now. They're trained to take a question, repeat it back, and then recite a carefully crafted, well rehearsed answer that hits the points people want to hear. They even practice their facial expressions and hand movements. You're trained to get things done. Your brain starts answering a question, thinks of all the related factors, you hit some of those related points and people are lost. Most do not think as quickly as you do. You assume that people understand more than they do, that they understand your inferences, they don't, or that they have heard you answer the question before so you leave out detail: they didn't.  In your speeches you eventually come back to your original point but in debates you don't have that luxury.
I've watched and listened to you a lot, so I understand that you have detailed answers. Here's an example: I understand how Mexico will pay for the wall: by tariffs because trade is not equal with Mexico due to their currency manipulation etc., but you need to explicitly explain this when asked. Explain why and how they devalue their currency; and that once trade is fair the tariffs will go away. You need to explain things like you are talking to a 4th grader.
I've sat there watching your speeches and debates with people who support you and/or want to support you. They say things like: "I wish he wouldn't say that", or "why did he have to say that", or "I wish he would explain what he means", or "stop talking about the polls and hit them with the facts", or "Stop putting the other candidates down, we know their faults: stick to the issues, policies, and solutions".
Mr. Trump we need you in the White House. It's time to flip the switch.
Fred Black
www.DoMoreThanPray.com