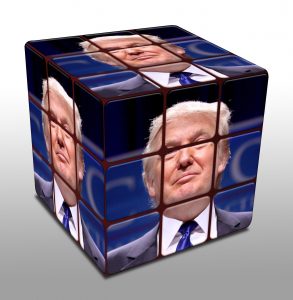 Pastors, Conservatives, and talk show hosts supporting Cruz Are wrong and here's why: Donald Trump is actually more conservative Than Ted Cruz.
The importance of the Office of the President of the United States cannot be understated. Americans have had apathy when it comes to elections, especially Christians. According to Franklin Graham, almost 75% of Christians did not vote in the 2012 and 2008 elections. So while I would like to have ministers encouraging their congregations to vote, and guiding them in prayer to vote for the best candidates, I'm frustrated when I read social media from pastors lambasting Donald Trump and extolling Ted Cruz, especially when they pass on, or state, inaccurate information. As I've written in previous posts, we must demand that our churches and ministers be true to the teachings of Jesus. Social media is very telling: snide comments, false comments, and misleading postings reveal those not leading their flocks toward truth, but towards control.
Trumps Not Perfect…
God uses sinners to accomplish great things, and Jesus recruited / attracted sinners to be disciples. Some were pretty bad sinners before doing great things. We're not electing a saint. We're not electing someone to be an evangelist for Christ; we're electing a fighter to push back the evil that's taken over this country. As I wrote in this previous blog post, Forget the Conservative Score Card; We Need a Train Stopping Candidate!, we don't need a "fine tuning" of this conservative principal or that conservative principle, we need an explosive force. This election is the last, absolutely last, chance we have to save this country in the form that our founders created it.  It's odd to me that Cruz supporters seem to be oblivious to the fact that he's not perfect either and elevate him over Trump.
So Far Conservatives Have Not Done Much…
We have elected conservatives that have had zero effect on the condition of the nation, zero. Nothing gets accomplished. They looked good on paper, like Cruz, but fizzled in office. Here's one example of a reason why: Former US House speaker Dennis Hastert molested four boys, prosecutors say – Washington D.C. is full of dirt, scum, and evil. Do you not think Hastert was blackmailed to take certain actions or his little dirty secrets would be exposed? Sure he was.  It's always the same thing: someone on the inside has something on almost everyone. The system is completely rigged and controlled by insiders. The NSA is in the business of getting the dirt. That's why a new Senator or Congressman goes in all fired up to change things, but later we're scratching our heads wondering why it's all show but no real change ever gets accomplished.
I used to like Ted Cruz a lot… I've even defended him in a blog post on this website after he lied about Ben Carson. The problem is, he's not real: he poses as an outsider.  If do your research, I mean really do real research, not just listen to news and to talk radio, he's be in the system for a long, long time. The system has its hooks deep in him. People refer to him as a first term Senator like he just appeared on the scene, but he's been in the system for years and years, as has his wife. Do your research, don't just blindly follow.
Trump Is More Conservative Than Cruz…
If, as I say, you do your research, you read and listen to the candidates directly and a lot, you'll see that Trump is very conservative on most issues, especially issues that will get this country back on the same page as the Constitution. I don't mean just listen to edited clips the news programs show you, watch entire events, YouTube is your friend.   You may disagree with me, but I challenge you to read his book Crippled America, read the policies on his website, and listen to his Foreign Policy speech and several rally speeches. If after doing that, you say Trump is not conservative, you're either lying to yourself out of ego, or, you're just lying. If you're lying out of ego, then you're a coward and that precludes you from being a conservative – even if you're a talk show host, an average citizen, or a candidate for office. If you're lying just to be lying, conservatives don't do that either. According to what I've just laid out, Trump is more conservative than Cruz.
Stop Worshiping a Man…
As human beings, we cannot judge what's in a person's heart; however, we can and should judge their actions. You have to look at their intentions. You have to be willing to be flexible, you have to be able to admit you were wrong and move on to a better choice. This is where a subset of conservatives, including a subset of ministers, fall short: I see them completely ignoring facts. They refuse to see that the man they want Cruz to be is not who he is.  This comes down to idol worship: when you're blinded to the faults of someone you're putting your faith in, you're no longer worshiping God and Jesus: you are worshiping a man.
More importantly, even if Cruz was who he purports to be, he still would not be the right person for the job at this time: he's too inflexible. I used to think maybe in 8 years. A Trump/Cruz ticket was my original hope, but no more, he's exposed his true self. Up until a few weeks ago I was thinking he'd make a good choice for Supreme Court, but no more. To hear him talk, and I listen to him, not reports of what he says, he tells complete lies about what Trump says. If you're a Cruz supporter and that makes you mad, I ask you why? It's a fact, not an opinion. Do your own research. There's no way anyone can listen to Trump, read his book "Crippled America", and read his policy papers on his website, and say the things that I hear Cruz and Cruz supporters saying. There's no way. Even if you do not like Trump, facts are facts. Trump does not do this to Cruz. I watched Cruz say that Trump supports Obamacare, that Trump supports bigger government, that Trump supports the federal government controlling education: all 100% completely false. I've read where supporters, ministers even, say Trump has backed off of building the wall and dealing with Muslims. All 100% false. In fact at his California rally last night (4/29/2016) he was stronger on Islamic Terrorists than I've ever heard him, and he restated a temporary ban on Muslims entering the country in his foreign policy speech the day before. Trump has made no secret that he supports traditional marriage and is against abortion.  His book and policies say he will cut the IRS, will cut the DOE, will reduce taxes, yet I hear people say the opposite. I wonder where these people get their information and how they (including Cruz) reconcile being Christian with telling bald face lies.
A lot of Cruz supporters point at what Trump said about North Carolina HB2 and say "see, he wants men in women's rooms". His first statement said the NC bill was strong and is causing economic repercussions. He's correct. He added to that that this matter should be a state and local decision. He's correct. I'm from NC; I don't want men in women's rooms or women in men's rooms. I think you should go to the bathroom that matches the equipment you have. However Trump is correct: the NC bill was too strong and included too many things. There was probably a better way to handle what the Charlotte city council did than the way HB2 handled it. Sensitive issues like this should be addressed using very targeted legislation that does not over correct. Usually there are enough laws on the books already. In addition, the media is constantly trying to trap Trump and he did a good job of avoiding their trap on this issue. Christians should be loving and compassionate. Transgender issues are not simple issues like having an expired license tag. They need our prayers, understanding, and help. I don't think any progress is made on LGBT issues by taking draconian measures, it's has to be more like turning a massive ship – it will take a while. The big problem comes from predators using these changes to their advantage: predators need to be handled with the harshest punishment possible.
Cruz supporters also point to Trumps past donations to democrats.  The facts are that he has contributed to both sides, and to Republicans more than Democrats.  However up until a few months ago Donald Trump was a private citizen, a business man.  He deals in real-estate in huge cities where he has to deal with government at all levels.  He's smart, he knows how to get things done.  He also said the system is broken and needs fixing.  He lives in the real world.  He's not accepting large donations and super pacs for these exact reasons, the other candidates do.  He's not beholding to anyone except the American people.  He's being more honest and conservative than they are by doing this.
If you listen to what the candidates say, not what Fox/CNN/or other news sources say, not what someone writes, then there should be no question. You cannot depend on anyone other than your own ears and eyes. Listen to what the candidates actually say, read what they actually write. Realize that a lot of people are trying to control what you think. Someone I trust a lot (Dr. Anthony Napoleon – see his books in the right-hand column) says in addition to listening, turn off the sound when they're speaking and just watch them, really watch their facial expressions for a while. Feel.
I mentioned talk show hosts: I've stopped following talk show hosts except for Sean Hannity. I took the time to research their background and education… very lacking. Most news media is also lacking in truth… they've manipulated the country for years. Trump is correct when he points out the news media as mostly terrible people.
Get the Government Boot Off the Neck of Christianity
Christianity has been under attack in this country for the past almost 8 years (really longer, but the attack has been out in the open under Obama). It's been more open worldwide as well. Christians need a President who understands that and will change it. Once this happens, Christians can do the rest. If we get the government boot off the neck of Christianity, then some of the issues Christians are concerned about will work themselves out without legislation and government intervention.
Flexibility
We need a President who is flexible. A President has to be a people person. People who have worked with Cruz describe him as inflexible, as opposed to those who have worked with and for Trump who describe him as inexhaustible in his ability to achieve goals by working with people from all walks of life. Life is give and take. Your marriage is a good example: the best marriages result from a team effort and compromise, not from unyielding control of one person by the other. You have to work with others that do not necessarily share your every belief and view point to get anything accomplished. You also have to understand that you can't accomplish everything on the list of what needs doing at once, and that some things are more urgent than others and that some will take much longer than others.
Until next time,
Fred