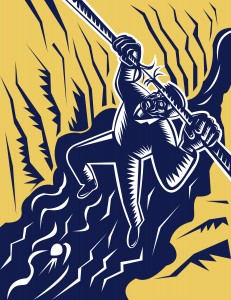 Life is hard.  For some it's harder than others.  It's easy to look at people and think they have everything, that their life must be perfect: we never know what crosses they bear, or how dark their nights are.  It's just as easy to look at other people and think their life must be awful… when in fact it's filled with joy and love.
Whatever the situation, I've learned one thing.  God seems to believe in the just in time inventory philosophy.   Just when you're about to step off the plank into the sea, God will give you another plank to step on.  Just when you reach the end of your rope… he'll give you more rope.  Notice I said "when you reach the end of your rope", not "when you think you've reached the end of your rope"… there's a big difference: God knows our breaking point, we don't.
I like Psalm 116, to me it speaks to this in a strong way, especially the King James Version:
I love the LORD, because he hath heard my voice and my supplications.
Because he hath inclined his ear unto me, therefore will I call upon him as long as I live.
The sorrows of death compassed me, and the pains of hell gat hold upon me: I found trouble and sorrow.
Then called I upon the name of the LORD; O LORD, I beseech thee, deliver my soul.
Gracious is the LORD, and righteous; yea, our God is merciful .
The LORD preserveth the simple: I was brought low , and he helped me.
Return unto thy rest, O my soul; for the LORD hath dealt bountifully with thee.
For thou hast delivered my soul from death, mine eyes from tears, and my feet from falling.
I will walk before the LORD in the land of the living.
I believed , therefore have I spoken : I was greatly afflicted :
I said in my haste , All men are liars .
What shall I render unto the LORD for all his benefits toward me?
I will take the cup of salvation, and call upon the name of the LORD.
I will pay my vows unto the LORD now in the presence of all his people.
Precious in the sight of the LORD is the death of his saints.
O LORD, truly I am thy servant; I am thy servant, and the son of thine handmaid: thou hast loosed my bonds.
I will offer to thee the sacrifice of thanksgiving, and will call upon the name of the LORD.
I will pay my vows unto the LORD now in the presence of all his people,
In the courts of the LORD'S house, in the midst of thee, O Jerusalem. Praise ye the LORD.
Until Next Time,
Fred
P.S. Rest in Peace Mo Collins.  Mo passed away this Sunday October 26th, 2014 at the age of 38.  he was a big man with an even bigger heart.  I met Mo several years ago taking my step-sons to Charlotte (a 2 hour drive) to train with him on Saturday mornings, to learn to be better football players.  I'm pretty sure they learned more than football, they learned to be better men.  My heart goes out to his family.
http://www.wcnc.com/story/sports/high-school/2014/10/26/west-charlotte-hs-football-coach-dies/17963031/