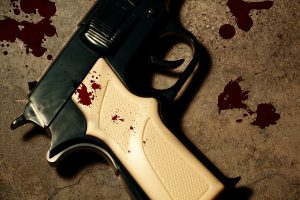 The nation watched in horror once again as a mass murderer unleashed hell on a school campus.
Right on cue President Obama, and other liberals, started screaming "more gun control" like parrots mindlessly squawking "Polly wants a cracker".
Also right on cue, the news channels and news reporters went in to crisis mode covering the event and speculating about the shooter – nonstop.  This needs to stop.
This latest shooter seems to have targeted Christians in particular.
Where does the evil lie?
Where does the fault lie?
My answer: Satan's Call to Greatness.
This shooter appears to have purchased the firearms legally. He'd not done anything before that would warrant not allowing him to own firearms.
The talking heads and analysts proclaim that he must have "snapped" or suffered from mental illness. Reports are that he had previously exhibited some issues, but not enough to flag him as unstable, or, at least no one had come forward with enough info. This will always be the case – there's no way to know if someone will someday do something so evil.
Was he crazy, or was Satan in control? Is there a difference?  That much hate comes from some evil, dark place.
Read the New Testament and you'll read about Jesus, and his Disciples, healing people, casting out demons and evil spirits: a lot of times the healing and the casting out were mingled together.
We're much too sophisticated these days to utter the word possessed, to utter the word evil. It's much easier to say he had a mental imbalance.
It's possible that we'll find out this shooter was on some type of illegal drug. It's quite possible we'll find out he was on some type of prescription drug for mental illness or depression.
We already know from notes he left behind that he wanted fame.
The conspiracy theorists think some of these mass shootings are staged false flag operations by our own government, or real massacres by our own government to create diversion. While possible, and it's interesting to ponder, I pray that our government is not that controlled by selfish and evil entities.
I think it's more likely that the majority of these mass murderers are possessed and controlled by evil of some type. Whether that evil takes the form of something we see as mental illness or hate, it's evil.
God does not create damaged goods: no one, at the moment of their creation, is flawed or evil. However, evil is very much real and present in this world, and must be recognized as such.
I certainly don't know how or why evil appears and takes hold in one person verses someone else, but it does, usually inexplicably. Look at radical islam and you'll see plenty of evil, look in a perfect Christian family and sometimes evil takes root in there as well.
I wish we could see evil and cast it out like Jesus taught his Disciples, but it seems we've lost that knowledge and ability. Until then, schools should have armed guards, armed administrators, and some armed teachers… otherwise these massacres will continue unabated.
No amount of gun laws will ever take guns out of reach of criminals or those wishing to do harm. If not guns, then other, sometimes easier and more efficient means of death will be used.
I pray for the dead, the wounded, and their families.
I also pray for those who have created the environment of critical mass for these types of events by irresponsibly banning guns in schools and school campuses, even to the point of disarming guards: some of the blood of the dead is on their hands.
Until next time,
Fred